Why Use Fabricated Steel In Your Next Construction Project
Stay up to date
Why Use Fabricated Steel In Your Next Construction Project
20 July 2015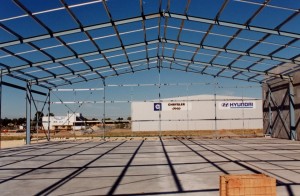 Steel is the material of choice in many different building projects and when you look at what benefits it brings to the construction industry, it's not difficult to see why.
From cost savings and sustainability to safety and reliability, there are a myriad ways that fabricated steel can add value, performance, longevity and aesthetics to a construction project, so if you're planning to build any time soon, you'll be interested in reading this.
Here are just a few of the areas where steel fabrication can deliver value and enhance a construction project:
Strength and versatility
Whether for a commercial building or a luxury home, steel combines strength, durability, reliability and versatility which allow enormous scope for design freedom without compromising structural integrity.
Safety
Far fewer workers are required on site when fabricated steel is used in comparison to many other building materials, which significantly reduces the risk of workplace safety issues.
Quality
Quality steel fabrication will ensure a quality end product – and because every batch of steel that is used in construction can be traced to its origin, the chain of responsibility is ensured.
Sustainability
Steel can be recycled without losing any of its properties or losing any of its quality.  In fact, over 95% of all structural steel is recovered, reused and/or recycled, so it is truly an environmentally friendly construction material.  What's more, as the focus increases on creating buildings that use fewer materials but which have a longer life, fabricated steel is really coming to the fore as a material which delivers on all the principles of good environmental design.
Fast and efficient
Steel fabrication can be done off-site and components pre-manufactured, so assembly and erection on site can be done quickly and efficiently.
Innovation, aesthetics and design freedom
Technological advances such as CNC processing have enabled huge strides forward in terms of innovative design.  Steel can be cut, bent and formed into just about any shape by a professional steel fabrication company plus its long spanning ability means it can be used in large open spaces without the need for columns or load-bearing walls.  Architects and builders choose fabricated steel because it allows them greater freedom of expression and gives them the ability to create unique designs without any compromise to functionality and performance.
Efficiency
Because steel is structurally efficient and lighter than other construction materials such as concrete, the actual building is lighter and less foundation work is required.  This means enhanced efficiencies in terms of time, cost and also in terms of reduced waste.  It's also energy efficient, which enables a cooler building environment in hot climates.
Cost savings
The use of fabricated steel in construction projects delivers a host of economic benefits including reducing the total construction time and reducing the overall project cost.  Waste reduction also results in cost savings – which translates into even greater value-add.
Designers and builders choose steel as a preferred building material for many reasons including its aesthetic appeal, design flexibility, functionality and its long-term value offering.
Obviously, it's important to work with an experienced sheet metal fabrication company to get the best results, and if your construction project is in West Australia, then WA Steel will be an expert and reliable partner.  We have been at the forefront of sheet metal fabrication in Perth for close on 30 years and have a wealth of experience in specialised sheet metal and light to heavy steel fabrication in Perth.  For professional advice, contact us on 08 9377 3778 to see how our investment in advanced technology and their expertise enables us to offer clients highly specialised solutions.
Corner
Share
---