Architectural Metalwork
As part of our sheet metal fabrication operations we produce architectural metalwork in a variety of materials, thicknesses and finishes for both residential and commercial properties.
WA Steel's designs suit a variety of applications including screens, gates, fencing infills and feature panel metalwork.
With a full range of services including laser cutting, CNC punching, bending and welding we can create a unique design to meet your requirements or work with your existing plans or digital files.
Questions or quote? Call us now on
(08) 9377 3778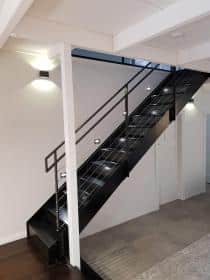 Metal Staircases
Custom built internal and external metal staircases for commercial and industrial applications with a variety of finishes.
We manufacture stairs in steel, stainless or aluminium to suit all tread types.
Questions or quote? Call us now on
(08) 9377 3778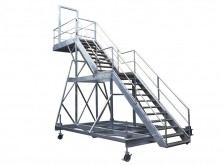 Steel and Aluminium Work Platforms
West Australian Steel Sales designs and fabricates custom steel and aluminium mobile or fixed work platforms to suit aviation, transport, maintenance, mining or general industry requirements.
All of our work platforms are designed to comply with Australian Standards.
Questions or quote? Call us now on
(08) 9377 3778