Aluminium and Steel Fabrication in Perth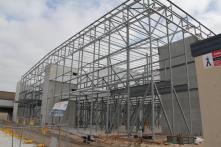 Steel Fabrication
West Australian Steel Sales are specialists in steel fabrication in Perth with a variety of in-house processes to meet customer specifications.
Our advanced steel fabrication production facilities ensure that we have the capacity and precision to undertake a wide range of fabricated components and projects including light steel fabrication and structural steel fabrication.
We are suppliers to the mining, transport, construction, aviation and materials handling industries.
Light Steel Fabrication
Tanks
Trusses
Access Platforms
Lighting Trailers
Pumping Trailers
Trolleys
Ramps
Bus Frames
Ovens
Guards
Trestles
Benches & Workstations
Aluminium Framework
Canopies & Awnings
Steel Fabrication
Structural Steelwork for Commercial and Industrial
Roof Trusses
Tanks
Storage Silos and Bins
Hoppers
Stairs and Walkways
Piping
Machine Bases
Mezzanine Floors
Handrails
Services
Section Rolling
Rolling
Welding
Drilling
Punching
Bending
Guillotining
Automatic Cutting
CAD Drafting & 3D Modelling
Finishes Available
Hot Dip Galvanized

Powder Coated
Spray Painted
Blast Cleaned
Looking for architectural metalwork, metal staircases or aluminium work platforms for your commercial or residential property? WA Steel are specialist metal fabricators that can cater to any project from concept through to finished product. Contact us for more information.
Questions or quote? Call us now on
(08) 9377 3778