Why Architectural Metalwork Is All The Rage In 2015
Stay up to date
Why Architectural Metalwork Is All The Rage In 2015
20 January 2015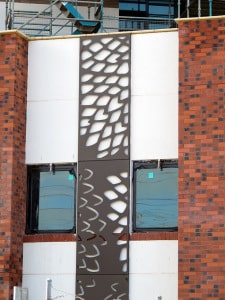 Architectural metalwork has become a key talking point in today's construction world and is fast becoming a 'must-have' feature across all types of building projects, large and small.
But what's behind the growing popularity of architectural metalwork?
For starters, architectural metalwork makes a bold statement.   The features are often eye-catching and attractive and they pique people's interest – and that's enough to start a conversation about the vast potential of just what can be done using fabricated steel and metal.   It may be a striking feature such as a stainless steel staircase in a shopping mall, a vintage rusted steel planter box seen outside a restaurant, a unique laser cut metal screen spotted in a magazine article or a perforated privacy screen for sale at the local landscaping centre – architectural metalwork now comes in such a huge variety of shapes, sizes, materials and applications that there's always something new to see and talk about.
Architectural metalwork has also become much more of a mainstream commodity.  Because it can be incorporated just as effectively in a large scale commercial project as it can be in a small-scale residential project, it has become far more accessible and is being far more widely recognised by a growing number of people.
Technology is another significant factor that has contributed to the growth of architectural metalwork.   From sophisticated computer aided design and 3D modelling to precision-equipment like CNC routers, laser cutters and turret punches, the advances made terms of equipment and technology for both design and fabrication have opened up a new world of possibility for architectural metalwork.
The steel fabrication industry itself has evolved significantly with many companies broadening their capabilities and becoming much more innovative and flexible in terms of their product offering.  A quality metal fabrication company will be able to design, supply and install a huge variety of  architectural metalwork design solutions from balustrades to walkways, gates to bollards, louvres to fences, sculptures to water features, screens to cladding, benches to awnings – the list is endless.  It's also far more affordable these days.
But architectural metalwork isn't only about aesthetics and decorative installations.  It's also about products where functionality, durability and performance are paramount – and it has an important role to play in many different environments where these qualities are non-negotiable.  These could include installations like metal staircases and platforms in a factory, a stainless steel kitchen in a hospital or prison, handrails and balustrading in a school and so on.
When it comes to architectural metalwork, there should be no compromise on the quality of design and workmanship or on the structural integrity of the product and therefore choosing a steel fabrication company to do the job is an important decision.
If you want a specialist in quality steel fabrication in Perth, you should contact West Australian Steel Sales on 08 9377 3778.  Locally owned and operated, WA Steel has advanced production facilities which ensure that it has the capacity and precision to undertake a wide range of fabricated components and projects, including architectural metalwork.  WA Steel offers a total manufacturing solution from initial concept through to finished product. Contact us now,  the friendly experts at WA Steel, for specialist steel fabrication in Perth with 30 years' industry experience.
Corner
Share
---