Five Things To Look For In Your Steel Fabricator
Stay up to date
Five Things To Look For In Your Steel Fabricator
6 August 2015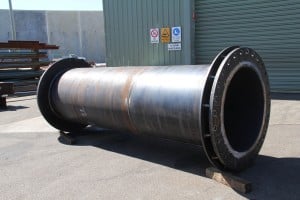 Steel fabrication isn't only the domain of heavy industrial projects, it's a process that touches everyday lives in a myriad different ways without people even realising it.
Just about every structure involves some type of steel fabrication whereby the metal has been formed, bent, sawn, cut, sheared, stamped or welded into shape – and this can be for either structural or aesthetic purposes.  From bridges and cranes to oil rigs and trains, balustrades and stairs to sculptures and light-fittings, steel fabrication plays an important role.
It's not only an important role, it's a hugely demanding one too – and so when it comes to the performance of fabricated steel components, there should be no shortcuts in the quality of materials or in the workmanship.  The problems arising from inferior fabrication can be significant – even resulting in the integrity of a structure being compromised – so it's vital you choose your steel fabricator very carefully.
Here are five things you need to look for before appointing a steel fabricator for your project.
1) Attention to detail is a key factor in choosing a steel fabrication company because there's no room for error when it comes to things like the structural integrity of buildings or the reliability of performance of a vehicle, moving part, piece of equipment etc.   Therefore, attention to detail in every aspect of steel fabrication – from taking a brief, producing drawings, adhering to specifications and so on – is absolutely crucial.
2) Quality assurance is another key factor in selecting a steel fabricator.  Adhering to the highest quality standards is imperative because there should be no room for compromise.  Technicians should have all the appropriate certifications and both the equipment and workmanship should be of the highest quality.
3) Communication is another essential factor and a good fabricator will be open and upfront with clients.  They will be transparent when it comes to establishing the best outcome for the project, including making recommendations as to the most appropriate metals and materials, setting realistic timeframes for the completion of the job, project costs and so on.  Two-way communication between client and fabricator is essential and both sides should be willing to listen to one another and discuss ideas.
4) A proven track record is a must.   Contractors should have a reputation for delivering quality products, on time and on budget – backed up by solid after-sales service and support.  Before making any final decision, you should do some research on their past performance, get testimonials from clients and investigate their background (time in the industry, experience, equipment etc).
5) Technical expertise is the fifth key factor that needs to be established before you make any decision on your steel fabrication company.  A good fabricator will have a manufacturing facility with cutting-edge technology and equipment (such as metal shears, laser cutters, sheet metal punches, CNC routers etc) and will be able to design and create high quality metal parts and products which are error-free and which meet all specifications.
We are one steel fabrication company in Perth that ticks all these five boxes (and more).  We have been at the forefront of sheet metal fabrication for close on 30 years and have accumulated a wealth of experience, technical expertise and innovative ideas across a huge range of light and heavy fabrication projects.  If you want a professional and specialised solution for any steel fabrication application, contact the experts here at WA Steel on 08 9377 3778 to see their experience in action.
Corner
Share
---