8 Steps To Brilliant Steel Staircases
Stay up to date
8 Steps To Brilliant Steel Staircases
21 May 2015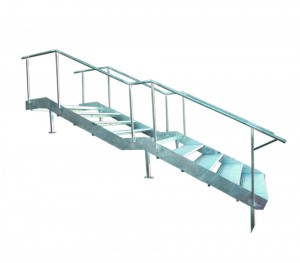 Why would you choose steel for your staircase?  The question you should be asking is why wouldn't you choose steel for your staircase?
Fact is, steel staircases have a wide range of features and benefits that elevate them from ordinary to extraordinary.  Whether you're a business owner wanting attractive functionality or a homeowner wanting a 'wow' factor, choosing steel as the construction material for your staircase will be one of the best decisions you'll make.
And here's why.
1. Looks luxe
Whether for indoor or outdoor use, steel staircases are an eye-catching feature.  Simple and functional, sleek and modern or elaborate and decorative, the design possibilities are endless.
2. Versatile
Steel also blends easily with a wide range of other materials and colour schemes, for example with wood or glass, so it is suitable for just about any design scheme or theme.   Because steel is such a versatile material, when it comes to shapes, sizes, designs, spirals, curves and cut-outs, a professional steel fabrication company will be able to turn just about any idea into reality.
3. Lasts longer
Steel has become a favourite amongst architects and designers because of its durability and longevity.  A staircase constructed from steel will last for years, despite heavy traffic or exposure to the elements.
4. Easy to install
The flexibility of steel also means ease of installation, which is a big plus when it comes to keeping costs down.
5. A strong statement
The beauty of steel also lies in its strength – and because steel stairs can withstand much heavier loads than traditional wooden ones, they're a good choice in a wide range of environments, even the most rugged ones.  Steel also offers greater scope for intricate designs and shapes over timber because of its superior weight-bearing capabilities.
7. Low maintenance
When it comes to maintenance, steel stairs are a clear winner.  They don't need any staining, painting, varnishing or sealing – and because they're also hardwearing and temperature resistant, they'll stay true to their original form without warping or bending.   They're easy to clean – so ongoing maintenance costs are kept to a minimum.  What's more, you can put that termite treatment away because they're not only rust and corrosion resistant, they're also ant-proof!
8. Cost
Because a steel staircase is a low maintenance, long-term investment, it's also a cost-effective one – and that's a real plus.
It's easy to see why steel staircases are gaining popularity – and as architects, designers and the steel fabrication industry itself get more adventurous – they'll become an even more prominent feature in homes and workplaces around the country.
If you think a steel staircase has a place in your home or office, you should talk to the friendly experts here at WA Steel, a locally owned and operated specialist of steel fabrication in Perth with 30 years' industry experience.  Call us on 08 9377 3778.
Corner
Share
---