7 Things You Didn't Know About Perforated Metal
Stay up to date
7 Things You Didn't Know About Perforated Metal
20 March 2015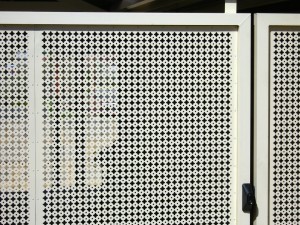 Did you know perforated metal is used in just about every industry from beekeeping, interior decorating and wine making to mining, electronics and construction?
There's so much more to this versatile product than meets the eye (although some would say that when you see perforated metal products in situ, they are pretty impressive!), so we've compiled a few short points to help you get to know a bit more about it.
Did you know perforated metal can be used for interior design and furnishings?
Perforated metal has been extensively used for privacy, light and ventilation in interior design for ages with examples of installations including façades, cladding, awnings, balconies, balustrades, sunscreens, canopies, stair treads, column covers, privacy screening and even artwork.
However, it is enjoying a surge in popularity across a vast array of interior design applications including furniture, lamps and accessories and was a massive trend at Europe's largest design exhibition, Maison & Objet, which was held in Paris recently. A growing number of top designers are incorporating perforated metals in their pieces, such as the German design duo, Pulpo, who are combining perforated metals with oxidized metals, ceramics and glass to create really interesting lamps.
Did you know perforated metal offers technical advantages over other mesh materials?
Perforated metal offers superior functionality over other mesh materials such as welded and woven wire and expanded metal wire in a number of areas including ventilation, filtration, sound absorption, acoustic performance, radiation containment, heat dissipation and sustainability. When compared to other materials, perforated metal also offers superior versatility in the range of combinations that are possible in terms of the open areas (holes or shapes) and solid areas.
Did you know perforated metal can be used to create corporate logos?
Sophisticated CNC turret punching equipment can be used to transform sheet metal into an eye-catching and expressive artistic design which can be used as a corporate logo, signage or metallic feature. In fact, with sophisticated equipment, professional steel fabrication companies can recreate just about any image on perforated metal – so imagine how a huge corporate logo or pattern would bring a dull building facade to life – and provide your company brand with an eye-catching boost at the same time.
Did you know that perforated metal is environmentally friendly?
When used as cladding, sunscreens or canopies on a building, perforated metal brings a number of environmental and energy saving benefits. Firstly, by naturally filtering and diffusing light and heat into the interior of a building, perforated metal serves a vital purpose in controlling temperatures and providing aeration for hot or humid areas, and in doing so, it reduces the requirement for energy guzzling airconditioners. Secondly, it needs limited maintenance and cleaning which is also good for the environment as well as being long lasting and durable.
Did you know perforated metal can be colour-coded?
In the past, only a very limited selection for metal colour coatings was available, but nowadays, advanced laser and perforating techniques mean virtually limitless design possibilities because the perforated metal can be powder-coated to suit any colour scheme. Other finishing techniques are also available, such as the ochre brown patina of the steel panels that clad the award-winning IGLU Central Student Accommodation in Sydney's CBD, which complement the brick facades of surrounding buildings and which also produces a natural oxide layer to slow down and eventually stabilise corrosion.
Did you know that perforated metal holes can be any shape and size you want?
Using sophisticated presses (such as turret punches, CNC routers, sectional presses etc), steel fabricators can create just about anything and everything from a privacy screen with round holes to a custom made project with geometric shapes, rounds, squares, slots or decorative patterns.
It should be no surprise that perforated metal is fast becoming one of the most widely used products in the home and the workplace. If you want to find out more about how to customise this low maintenance and cost-effective product you should talk to us, the friendly experts at WA Steel, for specialist steel fabrication in Perth with 30 years' industry experience. Call us on 08 9377 3778.
Corner
Share
---